Ushering a baby into a family is something that has been done for centuries all around the world. Gathering together, sharing the heartiest congratulations, and offering presents to mark the birth of a new baby started back in ancient times. 
Although the moniker "baby shower" is more recent, the practice of celebrating childbirth dates back generations and has a greater meaning than simply giving gifts. 
What is a Baby Shower? 
For those who are new to this concept, a baby shower is a party in anticipation of the birth of a child. It's usually hosted by friends and family members, often women. This is usually held four to six weeks prior to the baby's expected delivery date. 
Nowadays, with the help of technology, baby showers could also be celebrated even when guests are far apart. The virtual baby shower is a trend, especially because of the pandemic. With the ever-changing world, baby shower activities had evolved, depending on tradition and period.  
Let's take a look at what transpired in baby showers during different eras. 
Ancient Egypt and Greece 
The first pregnancy festivities date back to the olden days. This celebration took place after the birth of the baby. Moms and their new-born babies would be isolated for some time and treated as impure or unsanitary. Purification rituals were held after the isolation period. 
Following this, it was customary to pay a visit to the temples. These rites were observed to accept the mother back into society and welcoming the baby into the house. Babies were also given a name and presented. Mothers were offered a special meal by immediate relatives and friends as a way of saying "welcome to the stage in life." 
The Greeks also had a ritual of shouting shortly after labour, which was thought to be a symbol of impending harmony in society. 
Middle Ages 
Hundreds of years later, ceremonies celebrating new mothers and babies started to take on greater significance in the life of a new family. A new baby was welcomed with a baptism rite on the day after birth.  
Godparents would bless the baby with a nice present, such as a collection of silver spoons. Parents also have the right to choose the godparents for their children. Most parents were tempted to pick several godparents in the hopes of having more presents.  
Oddly, the mother was not permitted to partake in the celebrations because custom required her to endure a 40-day quarantine, which was essentially a compulsory rest. 
Renaissance Period 
Even though baby showers were practical during the Middle Ages, they eventually developed into acts of self-indulgence. Baptisms were still important, but it wasn't until the Renaissance that the mothers were given more consideration. 
During this time, the mother was cherished and lavished with presents and treats. She was bestowed with fine food and clothing, as well. Rich families were even immersed in the practice of giving mothers paintings as presents. 
It was also very popular for a mother to get an engraved wooden tray with a note of congratulations for her and her new baby. The festivities were also massive, luxurious, and lasted for many days during this period. 
Victorian Era 
The Victorian era saw a revolution of sorts, and baby showers and pregnancy began to take on new meanings. Pregnancy during that period was mostly kept private, and posing publicly with a pregnant belly was frowned upon. 
Despite the fact that pregnant women were barely seen in public, they were treated to soirees in their name. Women were hesitant to reveal their pregnancies openly at the time, and it was only spoken in silence.  
But, during the late 1900s, baby shower festivities changed. It focused greatly on joy and the pleasant aspect. Grandmothers were overjoyed as their granddaughters became pregnant and bestowed them with costly silverware as presents. 
This was also an opportunity to support economically encumbered families in dealing with the extra costs of having a baby. The beneficiaries didn't have to feel guilty about embracing such hospitality. 
It's also the time when the presents became more useful. Expecting women were provided with clothes, a secure stock of diapers, and bathing necessities. 
Post War Period 
After Second World War, when poverty was still prevalent, the consumerist revolution began. Baby showers turned into very thoughtful gift-giving celebrations to provide as many presents for the baby as needed. This effectively supplied the expecting mother with all she required, minimizing child care costs. 
Placing the pregnant mother on a chair and witnessing her open her presents started during this period as well. Party themes and other practices also became customary during this time.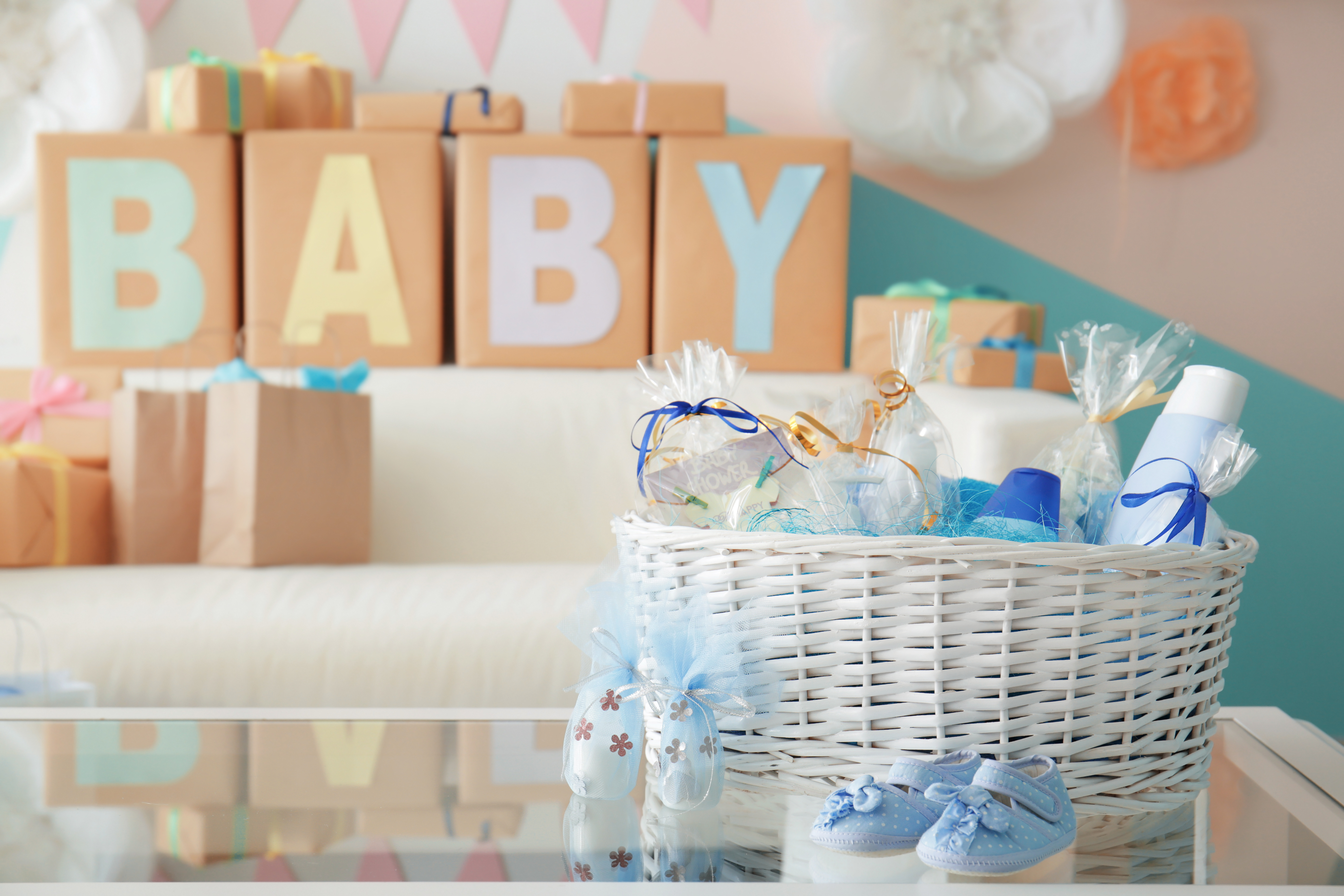 Modern-day Baby Showers 
Since the early days of the post-war world, traditions haven't shifted all that much. Of course, modern-day baby showers now have the inclusion of technologies, such as emailing invites and virtual parties. 
As part of the celebration, some parents prepare baby shower games as an activity for the event. Whereas, others chose to get a gender prediction test and reveal the baby's gender even before the party. 
Guests are greeted with intricate invites, and party activities include attempting to distinguish the baby's parts on an ultrasound. Celebrating at work is also possible as women now play a major part in the modern world's workforce.  
Although some people also still give clothing, some generous guests give expensive baby products and other nursery necessities. The presents aren't always intended for the infant, but guests often give gifts to the expectant mother, as well. Others shower the mothers with costly luxuries such as funding exclusive spa services. Albeit simple, every mother now appreciates receiving keepsake photos of their new-born as shower gifts. 
Summary 
Baby showers have made great strides through the centuries and will continue to do so as long as there are beautiful babies to welcome. The celebrations have evolved to reflect how each era's society regarded babies, parenthood, families, and traditions. 
Although the practices associated with baby showers had changed over time, the predominant reasons for the celebration remain the same: It's to congratulate the pregnant mother on carrying a child and the birth of the baby into society.